Imperative - Group Companies
Tremplin Impex Private Limited
Tremplin impex Private Limited is a private limited company incorporated on 30th September 2020.  It mainly focusses in export and import of goods.
ImperaLabs Infotech Private Limited
ImperaLabs Infotech Private Limited (IIPL), is a one-year old start-up based in Mumbai, India and subsidiary of Imperative Business Ventures Pvt. Ltd. (IBVPL).

It acts as Software Automation and Innovation partner with their clients. ImperaLabs was incorporated by a team of successful Entrepreneurs, Engineers and Researchers exploring the opportunities, challenges and possibilities in the domain of Artificial Intelligence, Data Analytics and Big Data. ImperaLabs is focused on providing Innovative Software Services and Software Product Development and representing as System Integrator, Software Support & Maintenance Partner as well as Software Testing service provider.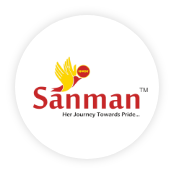 Sanman is the venture of Imperative Business Ventures Private Limited. It's an initiative for women empowerment and focusses in manufacturing, packaging and selling of Atta Products.

The idea is to offer healthy and quality food products to every family.  Mrs. Manjusha Paithankar - Founder of IBVPL, beight a Dietician decided to venture into packaged Atta Products which contributes to more than 60% food in our daily diet. Furthermore, these products gets manufactured in highly hygienic conditions and the team ensures quality product right from sourcing of material to packaging and delivering.


In the near future, the entire eco system of Sanman will be managed and marketed by women enterpreneurs.  This will provide employment to women.


Sanman will be introducing multiple nutraceuticals products for better health of Young India as well as introducing range of women fashion products which includes clothing – Ethnic wear, Western wear, Cosmetics, Eye Wear, Foot Wear, Handbags, Watches, Perfumes, Jewellery etc.
Why Sanman?
Premium Quality
9 to 9 Fresh
100% Quantity
No Adulteration
Doorstep Delivery
Sanman Agro Products & Food Processing
Sanman Agro Products and Food Processing is the manufacturing unit of Imperative and into manufacturing and processing of food products.